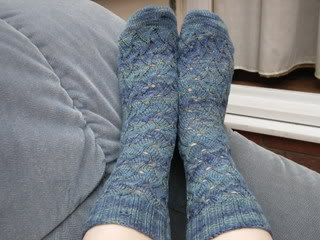 I have finished my Scrolls socks from More SKS. I finished the first one in April but got sidetracked by other projects and finally finished the second sock today.
The pattern reminds me of ripples in puddles and so I thought it went perfectly with the yarn I had from Posh Yarn in last month's sock club - it's the April Showers colourway.
I knitted these toe up with short row heels on 2 x 2.75 mm Inox Grey circs. It's a 14-row pattern but knits up surprisingly quickly.