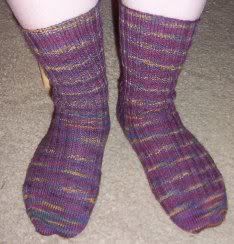 (You can see the same picture, but larger,
here
. The difference in stitches between the 2 x 2 rib and the garter rib is much more apparent in this one. The look is pretty elegant IMO.)
Garter rib socks, done!
They are very comfortable and stay up just great. Sort of surprised that the Lorna's Laces is pilling after one day of wear, though. Perhaps that's just normal. I am sure it is fairly strong stuff, what with being part synthetic.
What do you guys normally knit this yarn with? It's the Shepherd Sock, not Shepherd Sport. I used 1s, but another friend is using 0s for hers--but she looked at my sock fabric and thought that I was getting a good fabric. I dunno. I go back and forth on this whole thing a lot, and suspect I'm just going to wind up going daft and knitting everything on 0s!