Hello...I'm sort of new to knitalongs, but thought I would de-lurk and show some pics of my progress on a pair of garter rib socks from the book.
I started these last Autumn and got distracted by holiday knitting, so as of a week ago this was the progress I had. One sock, finished in November, and just the beginnings of the second one!
Here's a closer pic of the unfinished one, so you can see how the garter rib sort of stands out and is sturdy. It looks subtly different from regular 2 x 2 rib, which is what I used for the cuff.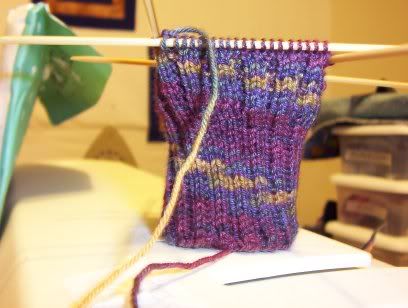 The yarn is Lorna's Laces sock yarn, in "Motherlode." I hope two pictures is not too many to post at once! I have to admit that I'm well into the heel of the unfinished one now, since it's been a week since I took these. :) Oh well.