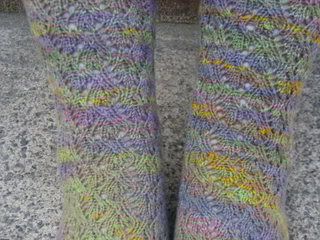 This is the Grapevine pattern on page 96 of More SKS and is my first pair of socks from this book. The pattern looks much better IRL, it's difficult to get a decent photo of it.
I knit these using Posh Yarn's Lucia sock yarn in the March Hare colourway (March's sock club yarn). I used 2 x 2.75 mm Inox grey circs.
I used my usual toe up pattern, not the one in the book.
These knitted up extremely quickly and only took 4 days to complete, and that wasn't working
on them constantly either. The fastest pair of socks I've ever made for myself, I think.
I've just cast on for my second pair - Scrolls on page 95 - again with Posh Yarn Lucia in the April Showers colourway (April's sock club yarn) but I haven't done enough to warrant a photo yet. ;0)